In Vitro Diagnostics- 2018
About In Vitro Diagnostics 2018
EuroScicon warmly welcomes experts around the globe to attend its much-awaited International Conference on In Vitro Diagnostics (In Vitro Diagnostics -2018), to be held on September 24-26, 2018, London, UK. This conference is based on the theme "In Vitro Diagnostics: Current trends, future challenges and opportunities".
In Vitro Diagnostics Conference -2018 brings together the experts from both industry and academia associated with Invitro Diagnostics (IVD), Molecular Diagnostics, Companion diagnostics, Point of care diagnostics/ testing (POCT) and associated regulatory matters, R&D and Technology transfer.
This In Vitro Diagnostics Congress comprises of Plenary sessions, Panel discussions, Round table discussions and Q&A Rounds, Oral presentations, Poster Presentations, Workshops/Symposiums, Young Researcher Forums to discuss the current trends, challenges, regulatory matters and future opportunities in the arena of Invitro Diagnostics Devices (IVD).
Why Attend In Vitro Diagnostics-2018
Meet the experts from 25+ countries around the globe
Earn up to 21 CME credits
Evaluate your research and share your ideas with global experts
World-class platform to exhibit your products and services
Special workshop/ symposiums, B2B and interactive sessions with industry sponsors and exhibitors
More than 30 presentations from Industry and Academia leaders
One- on -one interaction with eminent scientists in the field of In Vitro Diagnostics (IVD)
Well organizing program with 5+ hours of networking sessions
Interactive panel discussions and Q&A sessions
Lively Exhibition area filled with the leading industry solution providers
Hear direct feedback and share experience and learn about the regulatory matters from the experts of FDA, BSI, UL, LRQA, TUV SUD, LNE/GMED and TÜV Rheinland representatives
Who Should Attend
In Vitro Diagnostics Conference 2018 Rome, Italy provides an international platform for experts working in the field of Invitro Diagnostics (IVD), Companion diagnostics, Point of care diagnostics/ testing (POCT). In Vitro Diagnostics 2018 welcomes In Vitro Diagnostics Device (IVD) manufacturers (IVD), technology providers, vendors, suppliers, regulatory authorities and regulatory service providers, companies in the segments of IVD and PCOT, and Laboratory as well as academic experts in the areas of In Vitro diagnostics, Point of Care Diagnostics and Companion Diagnostics.
Professionals from Hospitals, Laboratories and Academics:
Directors, Deans, Research Professionals, Laboratory heads, Lab managers, Lab technicians, Medical/ Biomedical scientists, Professors, Associate Professors, Assistant Professors, Research Fellows working in the arena of In Vitro Diagnostics and its applied fields, but not limited to:
In Vitro Diagnostics technology
Companion diagnostics
Point of care diagnostics/ testing (POCT)
Diagnostic pathology
Clinical diagnostics
Oncology-pathology
Haemato-oncology
Clinical chemistry
Pathology
Histopathology and Cytopathology
Haematology and Blood sciences
Clinical oncology
Immunology
Microbiology
Biomarkers
Molecular diagnostics and pathology
Immunochemistry
Genetic testing
Industry partners and professionals in the arena of :
In Vitro Diagnostics (IVD)
Companion diagnostics
Molecular Diagnostics
Point of care testing (POCT)
IVD/ POCT manufacturers, vendors and suppliers
IVD/ POCT technology providers
Biomarker suppliers
Personalized Medicine
Precession Medicine
Other pathology and diagnostics Manufactureres, suppliers and vendors
Top USA In Vitro Diagnostics (IVD) Companies:
Danaher
Abbott Laboratories
Johnson & Johnson (J&J)
Bio-Rad
Becton Dickinson
Thermo Fisher Scientific
Beckman Coulter
Dade Behring
Top Europe In Vitro Diagnostics (IVD) Companies:
Roche
Bayer Diagnostics
Siemens
BioMérieux
Alacris Theranostics
ESE GmbH
Top Japan In Vitro Diagnostics (IVD) Companies:
Sysmex
Arkray
Olympus Corporation
Life Technologies
Top Global Emerging In Vitro Diagnostics (IVD) Companies
Dako (Agilent Technologies)
Genomic Health
Laboratory Corporation of America (LabCorp)
MDxHealth
Myriad Genetics
QIAGEN
Scientific Sessions
IVD Market Overview
In Vito Diagnostics Devices (IVD) Market:
The in Vitro Diagnostics Devices (IVDs) are one of the major segment in the healthcare industry globally. The IVD market place witnessed a rapid growth propelled by the better and newer diagnostic tools, evolvement of new technologies, improved disease monitoring, and readily available with increased demand of point of care diagnostic tests (POCTs), increased ageing population, rising of chronic, infectious and other lifestyle related diseases, and increasing healthcare expenditure. Moreover, the IVDs have added a significant value to the overall disease diagnosis, treatment process and healthcare industry. The IVD segment is also positively supported by the funding agencies like NIH, NHR, NHS Trust, WHO etc to offer novel diagnostic modalities. Uncertainty in the regulatory landscape remained a big challenge in the IVD industry. In our In European Vitro Diagnostics-2018 Conference, the experts will discuss thoroughly regarding these issues and will pave a way, how to comply with these regulatory issues to ensure the fulfilling of growing market demands of IVDS, PCOTs and Companion Diagnostics.
The global In vitro diagnostics (IVD) industry is under pressure because of incorporation of multi-disciplinary capabilities in chemistry, biology, and computational power that companies can leverage to develop new solutions to diagnose, treat and manage chronic diseases like cancer, diabetes and other cardiovascular diseases. There is a huge pressure on companies to build new competencies in product development, manufacturing and distribution of new technology platforms such as point-of-care molecular diagnostics and capture new growth opportunities in the precision medicine market. With the increased demand of IVDs, the re imbursement strategy is now a big challenge for the IVD companies in the western world. The rapid adaptation of next-generation sequencing (NGS) platforms, Liquid biopsies, companion diagnostics applications will rapidly drive the market in future.
As per a report the global revenues of IVD market will grow from $62bn in 2016 to $123bn by 2027 with a CAGR of 6.4% during the forecasted period. The major segments fuelling the growth include, Point-of-care (POC) tests, Clinical Chemistry, Immunochemistry, Haematological diagnostics, Microbiological applications and Genetic testing.
The US, Japan and China remained were remained the top three markets of In Vitro Diagnostics in 2015 and will retain the same place till 2026, while India will be the fastest growing market during the same period and will be very close to China.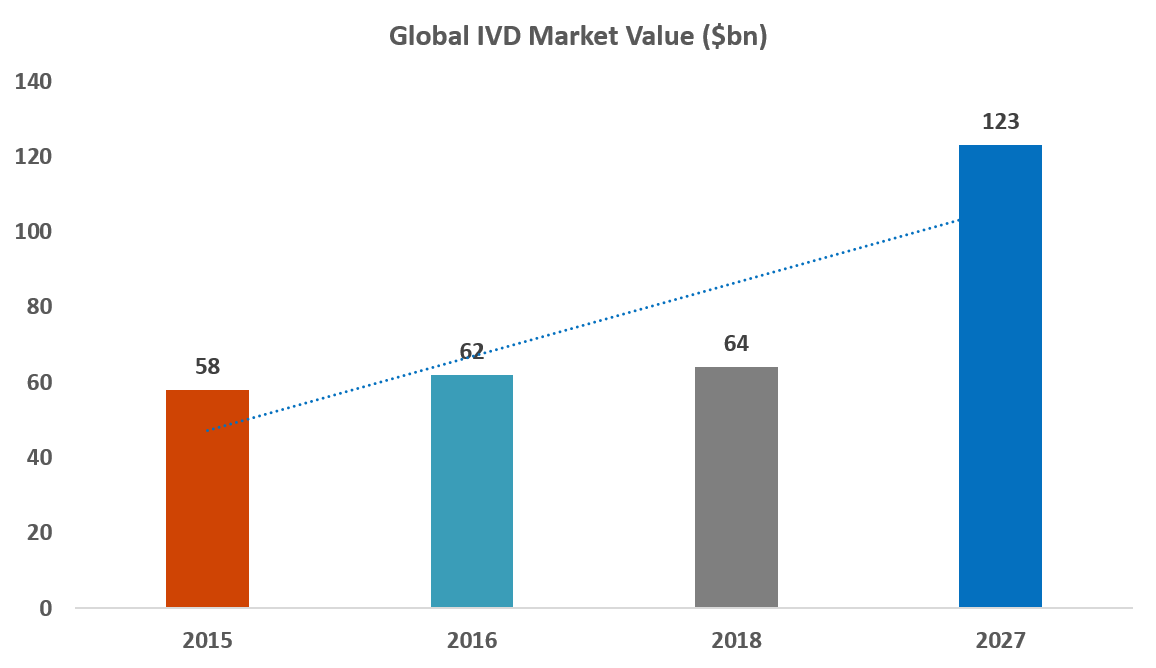 The European IVD market was worth $12.51Bn in 2015 and is expected to hit about $15.5Bn by 2024. This increase in market is attributed to the increased demand of promising and novel diagnostics technologies, increased numbers of geriatric population and increasing awareness among the population regarding the early diagnosis of life threatening diseases.In Europe, individuals aged 65 and above are expected to rise in number from 18.5% in 2014 to 28.7% of the total population, by the year 2080.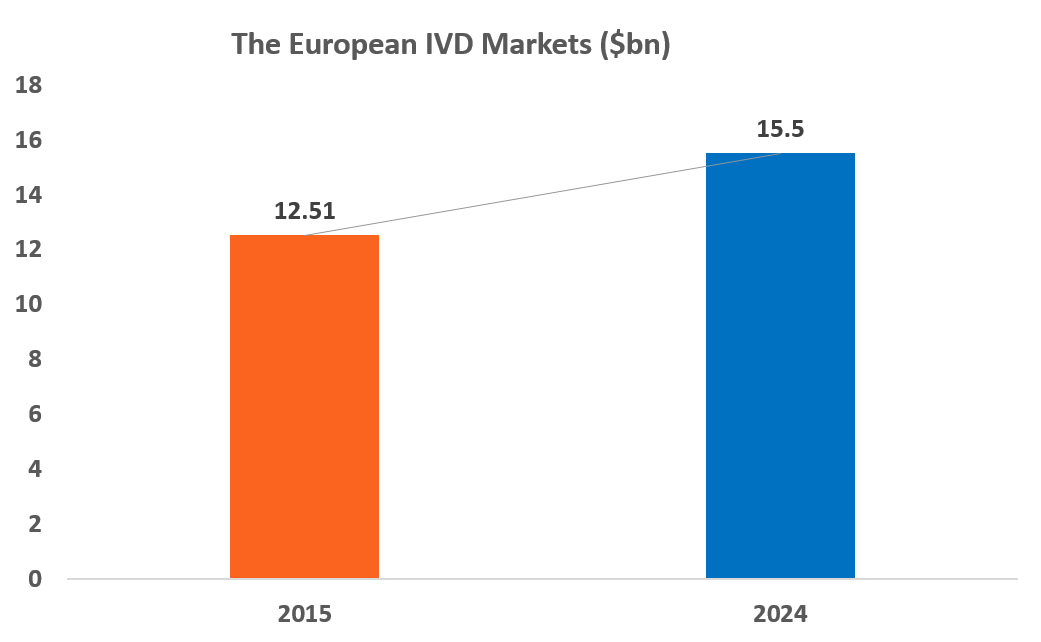 The Molecular Diagnosis market contributes a major share in the IVD space. Among all the countries, USA captured the major market in Molecular Diagnosis (43%), followed by Europe (24.8%), China (9.3%), and Japan (6.9%).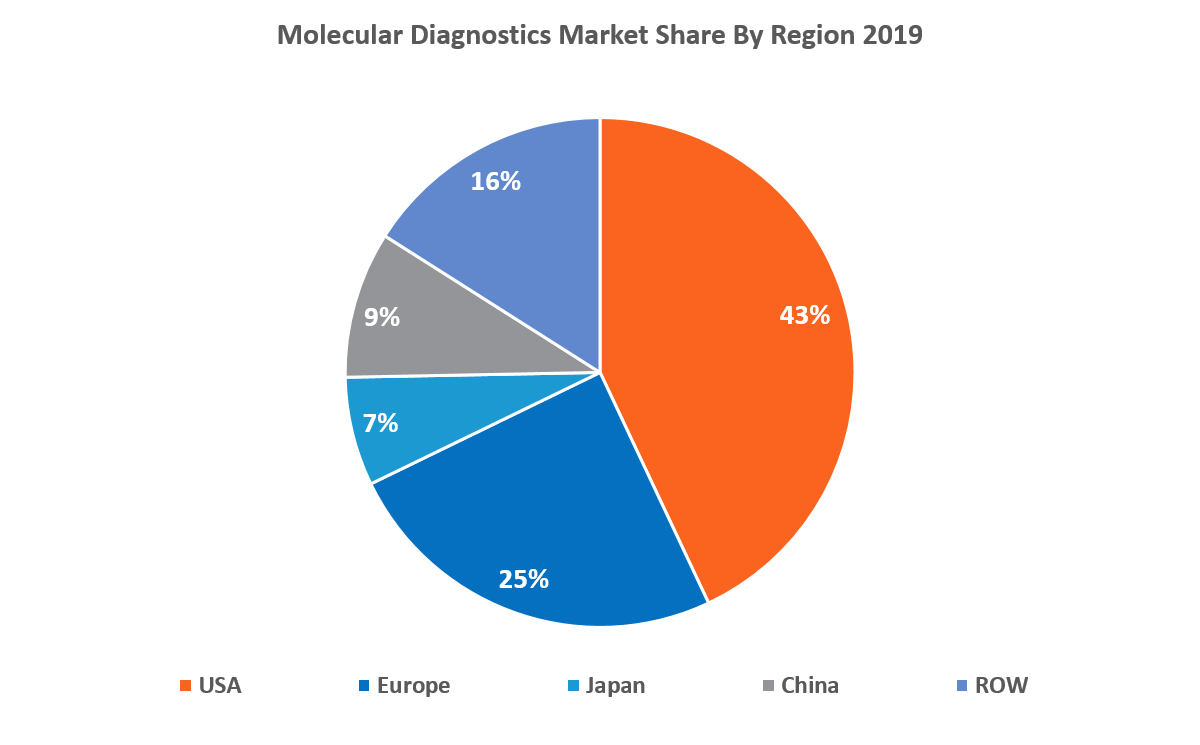 As per a report of European Diagnostic Manufacturers Association(EDMA), The revenues from IVD market in Europe (four largest European market) remained stagnant during 2007 to 2015 except Germany. In 2015, revenues increase 0.5% to reach €10,543M which was below the revenues of 2009 (€10,685). Though, the overall IVD revenues in Germany remained stagnated, modest growth observed in Germany (+1%). The growth has been observed in microbiology +2.2% and immunochemistry +2,5%. During the same period, the UK experienced the negative growth of -2.9% due to reduction in the cost of reagents mainly in Clinical Chemistry rapid test and POC. In Italy, market dropped with -1.3% compared to 2014. France IVD market remained stagnant with a small growth of +0.1%. Continuous economic crisis in Greece and Spain resulted a negative growth of -6,1% and -1,6% respectively. On the contrary, Portugal, though suffered economic chaos, showed positive +4,4 growth in IVD expenditure.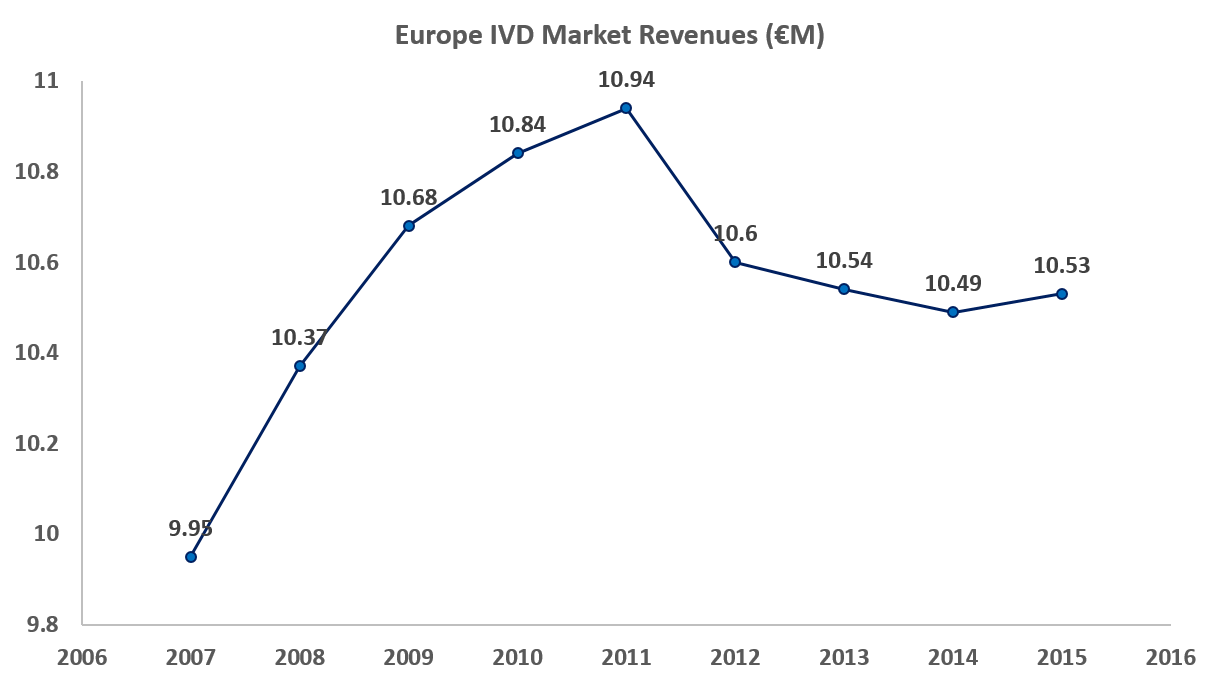 In Europe, an average of 10% of gross domestic product (GDP) is spent on healthcare. Among which around 7.3% is attributed to medical technologies, which is > 1% of GDP. The spending on medical technology is estimated to vary significantly across European countries,ranging from around 5% to 10% of the total healthcare expenditure9. Expenditure on medical technology per capita in Europe is at around €197.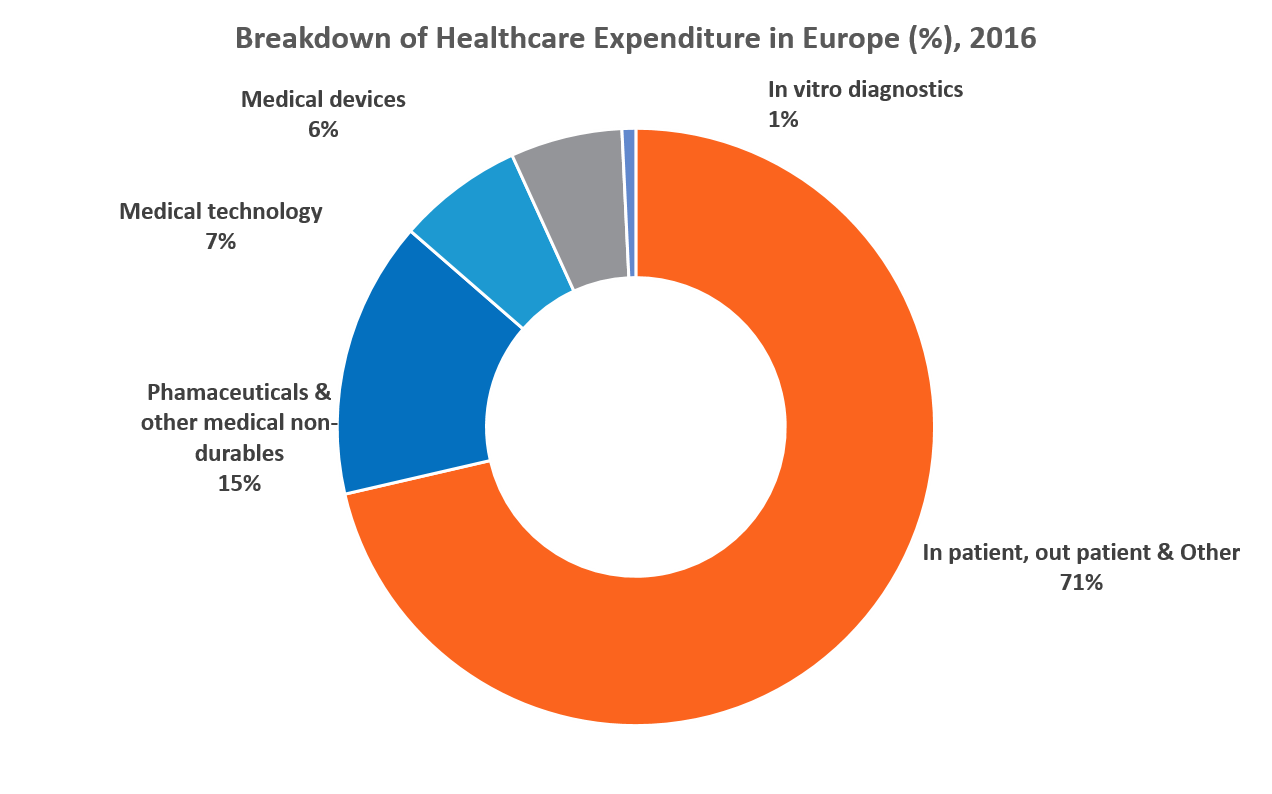 The European Medical technology market is estimated is estimated to be €110Bn in 2015. As per the manufacturer prices, the European medical technology market is estimated to be contributed 28% of the global market. It placed second with 40% share the USA is placed number one. Among all European countries, Germany stood top (21%) in terms of share of the IVD market, followed by Italy 16%, France 13%, Spain 9% and the UK 8% and rest of the Europe 33%.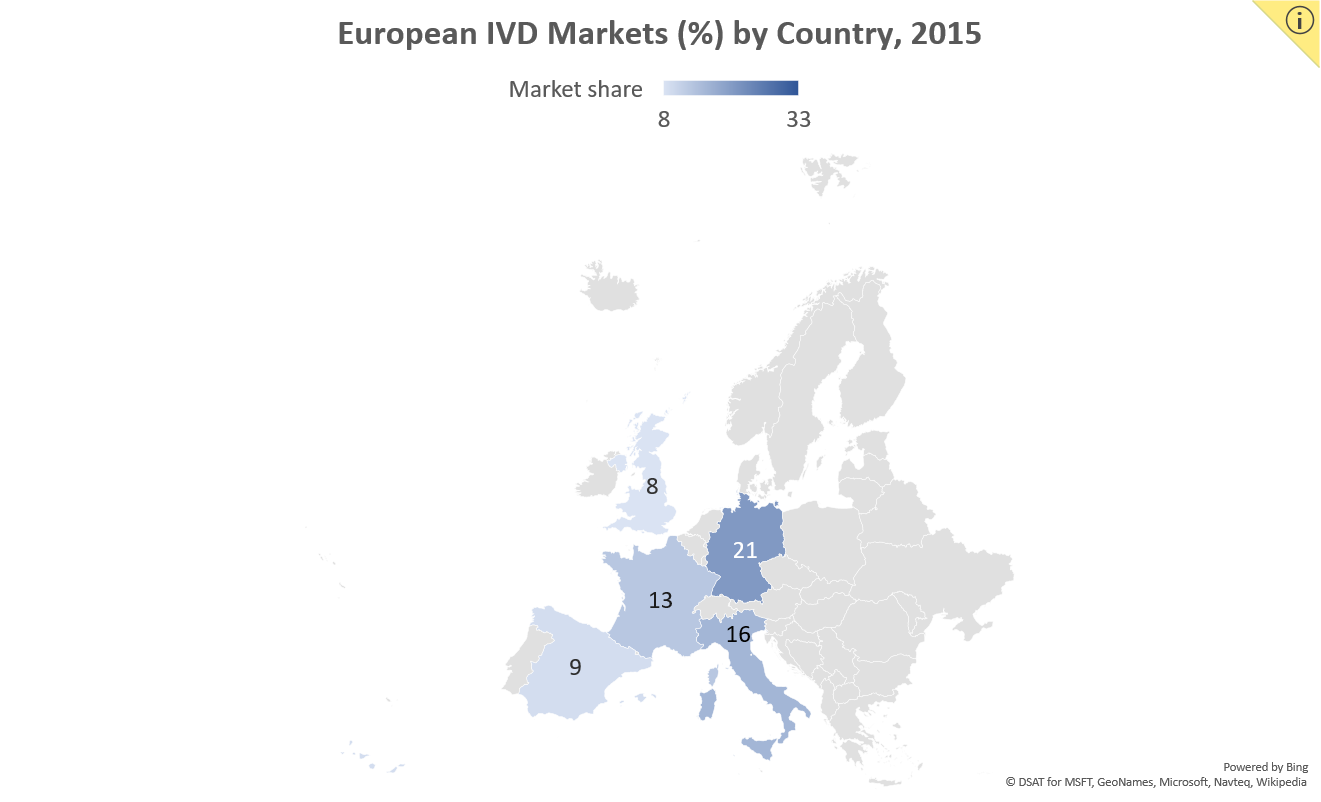 As predicated by Evaluate, on a worldwide perspective, the in vitro diagnostics market is the largest sector, followed by cardiology and diagnostic imaging. Among all the sector, in vitro diagnostics market is expected to grow highest till 2022 in terms of worldwide sales.